Nutrition
Superfoods are Mother Earth's most nutritious powerhouses, providing essential vitamins, minerals, and antioxidants. They can help increase energy, improve brain function and memory, reduce the risk of chronic diseases, maintain a healthy weight and lifestyle, and even extend your lifespan. Incorporate these unique and diverse superfoods into your diet to fuel your journey.
Choose your flavor below to see what's inside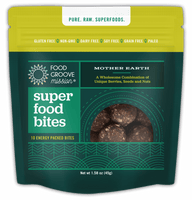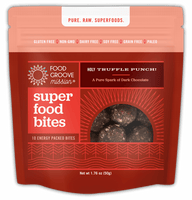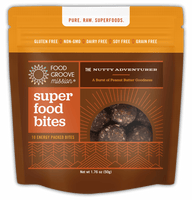 Organic Peanut Butter
Delicious, creamy, and good for you, this protein packed nut butter is full of healthy fats (that can help you lose weight!). It's also a great source of fiber, has a low glycemic index, decreases the risk of diabetes, and is high in potassium. Peanut butter keeps you fuller longer, locking in energy and good vibes!
Organic Dark Chocolate
Our dark chocolate isn't just dairy & soy free, it's also paleo approved and free of genetically modified ingredients. Made with unsweetened chocolate and all natural coconut sugar, this dark chocolate contains potassium and magnesium electrolytes, important for regulating the body's water content and heart, nerve, and muscle functions. Cool fact: Coconut sugar has nearly 400 times more potassium than normal sugar.
Organic Dates
A powerhouse of health benefits, and the main ingredient in all our bites, this fruit promotes heart health by reducing the risk of heart disease, regulating blood pressure, and reducing cholesterol levels. It's also packed with vitamin B6, fiber, magnesium, and potassium. The punch of natural sweetness gives you just the right carbohydrates to fuel your goals.
Manuka Honey UMF 16+
Among the most unique honeys in the world, Manuka Honey hails from some cool bees in New Zealand and has an especially rich taste. It's nutritional content is also four times that of regular honey! A rich source of amino acids, this honey helps to balance stomach acid, soothe sore throats and allergies, and is also a general booster of sleep and beauty.
Organic Rooibos Powder
This special herb, normally enjoyed as a tea, is found on the slopes of the Cape of Good Hope in South Africa. Rooibos is an anti-inflammatory, can help boost your immune system, and is very rich in calcium – and it's always caffeine free. Want a taste of the fountain of youth? Rooibos can help relieve stress and premature aging.
Organic Golden Berries
These little bursts of flavor have an amazingly high antioxidant content, increasing your body's ability to prevent certain chronic diseases, maintain low levels of cholesterol and a healthy heart. Golden berries are a perfect combination of sweet and tart. Spread the love to your body and it will make you feel berrylicious!
Organic Goji Berries
Goji Berries can keep your energy levels soaring, increasing your good moods, and helping improve digestive health. Packed with high levels of antioxidants and nutrients, they also reduce the risk of chronic diseases, improve your immune system, and include anti-aging properties for a strong body and mind.
Organic Açaí Powder
This rich dark purple fruit, found on açaí trees in Brazil and the Amazon region, is known to have extremely high anthocyanins, a form of plant antioxidant associated with the ability to lower cholesterol levels in the blood stream.
Organic Chia Seeds
These tiny super seeds are one of the most nutritious superfoods in the world, containing lots of protein, fiber, calcium, and Omega-3 fatty acids. They also add a nice crunch to all of our bites.
Organic Cacao Nibs
Cacao nibs are one of the most magnesium-rich foods out there. They're an excellent source of antioxidants, which can help with cardiovascular health and give you just the boost you need on those tiring days, making you feel great!
Organic Pumpkin Seeds
Also known as "pepitas," pumpkin seeds are one of the best natural sources of magnesium (for healthy bones and nerve function). They help promote a healthy heart, good sleep, and have been shown to regulate blood pressure. Pumpkin seeds can also improve prostate and bladder health and are rich in zinc, plant based Omega-3 fats, and are an anti-inflammatory.
Organic Almonds
Almonds have healthy monounsaturated fatty acids, which help prevent heart disease. They are also a great source of protein, fiber, magnesium, vitamin E (which promotes better skin and has anti-aging properties), and healthy fats you can trust for increased nutrient absorption. Almonds support healthy brain function to get you through those long days!
Organic Unsweetened Coconut Chips
Looking for the taste of paradise along with the power of nutrients? Unsweetened coconut chips are the perfect fit! Coconut promotes brain function and can help lower cholesterol levels.
Almond Protein (Non-GMO)
An all-natural plant based protein with a great taste and no chalkiness. Almond Protein is one of the cleanest ways to add nutrient dense, high quality, chemical free protein to your diet. Non-GMO, no gluten, dairy, or soy – just protein from almonds, pure and simple!
Organic Almond Flour
Our bites are dusted with a sprinkling of pure almond flour. It's free of gluten, grain, dairy, soy, paleo friendly, and has a subtle, nutty taste. Check out our description of Organic Almonds to discover more about this power nut!